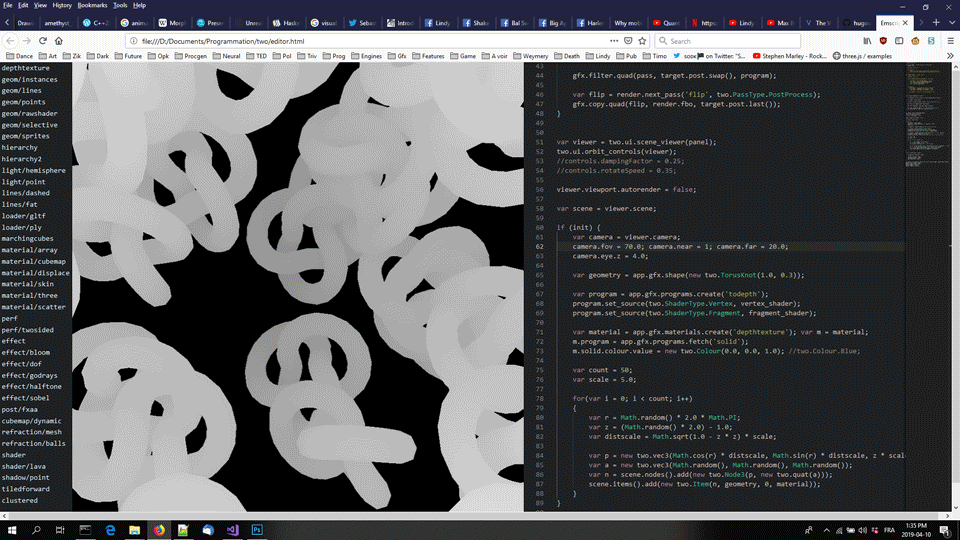 Closing in on version 0.1
The two library (previously known as mud) is at last very near to a first stable version 0.1. A metric ton of work has been accomplished recently to chisel the core of the library to a shape closer to its final form. The near term aim is to have for the first time a stable branch in the github repository, which will contain the first tagged release.
In its stabilized form, the library provides two main APIs, two low-level application building blocks which you can use just as well from native C++ as from higher-level language bindings:
a stable API for mid-level graphics rendering (think scenes, shapes, meshes, models, lights, materials, passes, post-processing, etc).
a stable API for fully auto-layout, stylable, declarative/immediate mode UI (with a large set of widgets, docking, tabs, nodes, text editors, inputs, curves etc).
Each of those layers are also their own libraries, available as twfx and twui, which can be used independently: they are not tied to one another. Other aspects of what was the mud library, namely the reflection and scripting parts, are taking a step back so that we can better focus on the two APIs above, under the umbrella of the name two.
By having ported 35 three.js examples to two, we are paving the way to the final set of features which are supported by the first release: these examples exist both in the form of native C++ code, and in the form of JavaScript code which is the version in the live examples below..
With some newly implemented JavaScript bindings, an idea we have been holding onto since long, long ago, is now much closer to reality: being able to use two for live-coding graphics and apps directly in the browser.
To demonstrate the potential, we put together this prototype of a live-coding environment, where you can edit examples in real-time including some basic error reporting.
The rest of this post goes into brief summary of the work accomplished towards making this library ready for its first stable form, so feel free to skip through the following samples. The live-coding editor exists also as a standalone page.